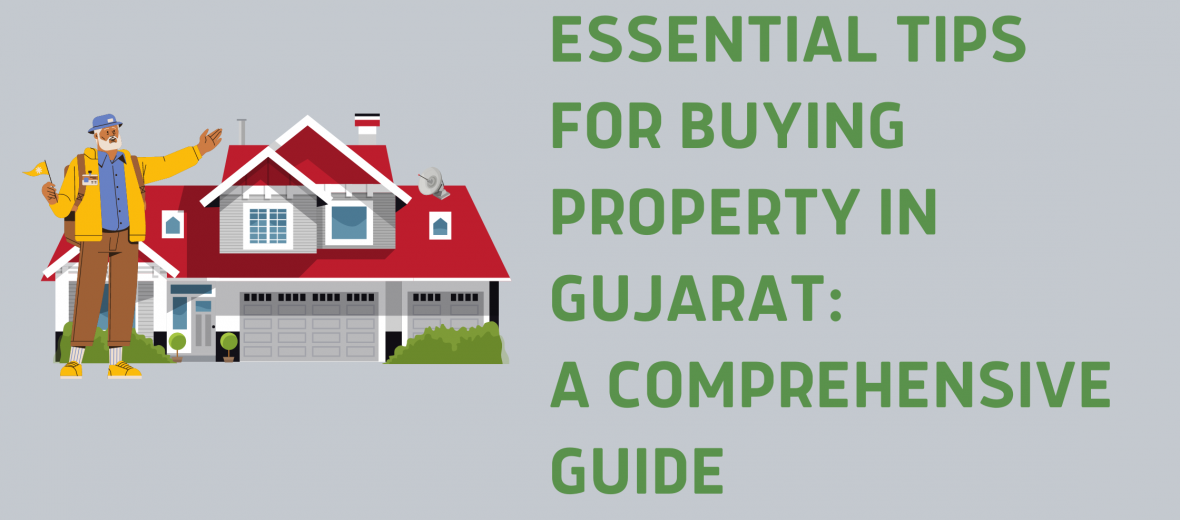 Property purchasers attract to Gujarat because of the state's vibrant culture, growing economy, and rapid industrial development. Before entering Gujarat's real estate market, whether you are a seasoned investor or a first-time homebuyer, it is essential to do your research. Through this guide, we will cover the Property Smart Card, buying advice, and other essential topics to assist you in making an informed choice while buying real estate in Gujarat.
1. Understanding the Importance of a Property Smart Card
A property's ownership information, land records, and other essential data are all included in a digital document called a property smart card. All landowners in Gujarat are required to have a Property Smart Card, which is the main source of data for prospective buyers.
The Gujarat government has launched an innovative program called the Property Smart Card to simplify the registration of properties, minimize fraud, and guarantee transparency for property buyers. The card includes all relevant things about the property, such as ownership information, property measurements, and tax payment history.
Advantages of a Property Smart Card
Transparency: The card provides a transparent and complete record of property ownership, making it simpler for buyers to confirm the legality of the seller and the property's history.
Ease of Access: Using a Property Smart Card makes it unnecessary for buyers to consult numerous sources or organizations because all necessary data is available in one location.
Reduced Fraud: Because the card offers a precise and detailed record of property ownership, it reduces the possibility that transactions would be fraudulent.
Efficient Transactions: By giving all required information in a digital format, the Property Smart Card simplifies real estate transactions by making it simpler for buyers, sellers, and governmental organizations to process and verify all of the details.
2. Property Buying Tips in Gujarat
To ensure a simple and hassle-free experience while purchasing property in Gujarat, it's essential that you keep in mind the following advice.
Understand Your Requirements
Understanding your needs, interests, and budget must be considered before you begin your property search. Make a selection of properties that fit your criteria after taking into consideration aspects like the property's size, location, amenities, and infrastructure.
Research the Property Market
Learn everything you need to learn about Gujarat's real estate market, including prices, patterns of growth, and future prospects. This will assist you in making the correct decision and investing in an asset with a high potential for appreciation.
Verify Property Documents
To prevent any difficulties or legal issues in the future, make sure that all property documents, including the Property Smart Card, are validated by a legal professional.
Check for Legal Permissions
Make sure the property in Gujarat has all the required legal authorizations and certifications, such as the completion certificate, and approval of the building plan, before making a purchase.
Evaluate the property carefully to determine the condition and make sure it matches your expectations. Inspect for any structural concerns, leaking pipes, or other problems that would require more money.
Don't be afraid to negotiate over the purchase price with the developer or the seller. A knowledgeable buyer can frequently obtain a better negotiation through effective negotiation.
If you need a house loan for financing your property purchase, compare interest rates and loan terms from several banks and financial institutions.
Make sure the property is registered in your name with the local government authorities after the buying process has been completed. During the registration procedure, the Property Smart Card can be updated with the new ownership information.
Plan for Additional Expenses
Be prepared for additional costs such as stamp duty, registration fees, legal fees, and maintenance fees in addition to the cost of the property.
Seek Professional Assistance
Finally, to ensure a seamless experience and guidance during the home purchase process, think about hiring a real estate agent or legal professional.
3. Types of Properties in Gujarat
It's essential to understand the various property types and their distinctive qualities before purchasing property in Gujarat.
Single-family homes, apartments, and townhouses are all examples of residential property. These locations, which offer various levels of amenities and community elements, are mostly utilized for residential reasons.
Commercial property includes industrial complexes, retail stores, and office buildings. These properties may require different regulation and permit requirements than residential properties because they are often used for business purposes or income-generating activities.
Farmland, orchards, and other land utilized for agriculture are all considered to be agricultural properties. These lands might be governed by particular zoning laws and limitations on non-agricultural use.
Residential, business, and agricultural elements can all be found on a mixed-use property. These properties have a distinctive mix of uses and may apply for specific zoning and permit issues.
4. Factors to Consider When Buying Property in Gujarat
When buying property in Gujarat, it's important to consider various factors that may affect your property's suitability and value. Some of the essential factors include:
The value and possible future growth of the property is significantly affected by its location. Look for properties in well-connected areas with good infrastructure, educational institutions, healthcare facilities, and employment opportunities.
Choose the right property depending on your needs and preferences, such as residential, commercial, or agricultural properties.
Make sure a developer has an outstanding track record of completing excellent projects on time before purchasing a property from them.
Infrastructure Development
Invest in properties located in areas with upcoming infrastructure projects, like new roads, metro stations, & business hubs, as these can significantly increase property values.
Consider the amenities and services offered by the property, such as parking space, safety, power backup, water supply, and recreational opportunities.
Ensure that the property is legally compliant and has all the required permissions and approvals from the local authorities.
Conclusion
If you are well-informed and take the necessary safety measures, purchasing property in Gujarat may be a rewarding experience. You can make a smart investment and secure your dream house in Gujarat by understanding the property's Smart Card, applying property buying advice, and taking many factors into consideration. Therefore, start your property-buying journey with confidence and take advantage of Gujarat's booming real estate market.
Aayaan Data Science Pvt Ltd is the best Property Management Solution provider in India that helps to resolve property management issues through Property Smart Card. Want to know more about Property Smart Card and their benefits in purchasing the Property, then you must visit aayaan.org or call us at +91 94265 93253.