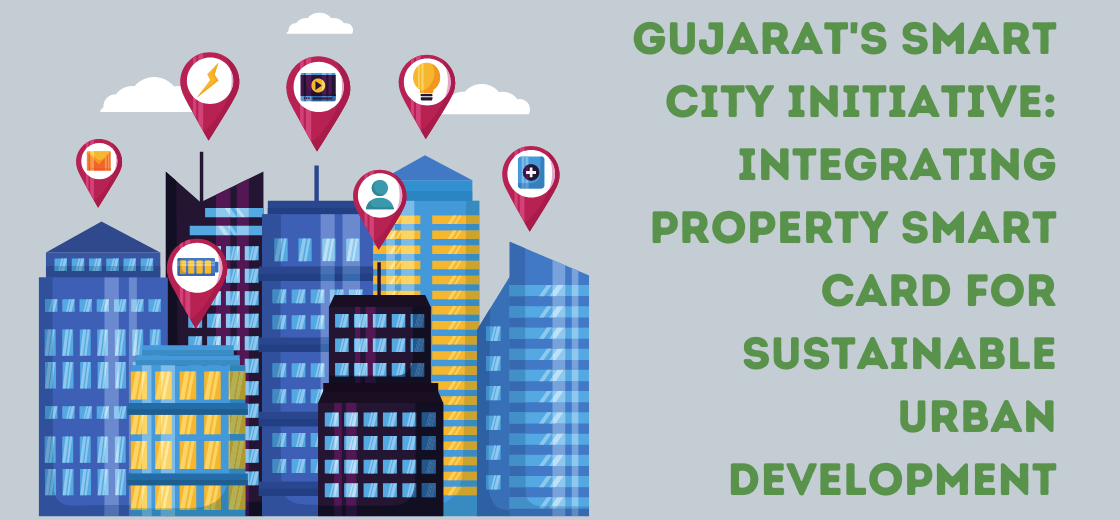 Gujarat, the most western state of India, is setting the bar for sustainable urban growth with its smart city project. India's cities are growing at an unprecedented rate, and by 2050, 60% of the country's population is expected to reside in urban regions. The infrastructure and resources of the nation are being seriously challenged by the country's rapid urbanization, which is creating several problems like traffic jams, air pollution, and insufficient access to essential services. That is the reason why Gujarat state's ambitious plans to build 100 smart cities by 2023 aim to revolutionize urban living by merging digital technologies, smart infrastructure, and sustainable development practices.
One of the main projects in this plan is the incorporation of a Property Smart Card©, which is expected to completely change how residents interact with the city's services and utilities. By using a single smart card to pay taxes, utility bills, and other charges, this revolutionary technology will streamline the process and reduce the need for paper-based transactions. However, the advantages of Property Smart Card go beyond their usability and effectiveness, they will also offer insightful information on citizen usage and behavior that can be used to improve service delivery and urban planning. Come along with me as we examine Gujarat's smart city plan and the function of Property Smart Card in sustainable urban growth.
Understanding the concept of Smart Cities
A smart city makes use of data and digital technologies to increase sustainability, enhance living standards, and maximize resource utilization. To offer efficient and effective services to people, smart cities use technology like the Internet of Things (IoT), artificial intelligence (AI), and big data analytics. Smart governance, smart energy management, smart waste management, and smart transit are a few of the fundamental characteristics of smart cities. Smart cities aim to build a seamless, interconnected urban environment that improves the quality of life for its residents by integrating all these systems.
Benefits of Smart Cities & Challenges Faced in the Implementation of Smart Cities
Smart cities provide several advantages for residents, governments, and companies. Smart cities can help to conserve natural resources and reduce the carbon footprint of urban areas by maximizing resource utilization and eliminating waste. The quality of life of its residents can be improved with the help of smart transportation and waste management systems, which may also result in business and investment.
While the idea of smart cities is fascinating, some obstacles must be overcome before they can be successfully implemented. The lack of resources and infrastructure is among the main problems. Significant investments in digital infrastructure, connectivity, and smart devices are needed to build a smart city. Many cities find it difficult to pay the high expense of integrating smart city technologies.
How Property Smart Card can contribute to Sustainable Urban Development?
Property Smart Card are an innovative technology that integrates various services and utilities onto a single smart card. It can also be integrated with other smart city systems to provide valuable data on citizen behavior and usage patterns.
Smart city systems that incorporate Property Smart Card can provide many advantages for sustainable urban development. Property Smart Card can reduce the need for paper-based transactions by allowing residents to pay for services and utilities with a single card, which can assist to decrease waste and conserve resources. Cities may better deliver services and make better use of resources by utilizing this data to identify regions of high demand and distribute resources in those areas.
Integrating Property Smart Card into Gujarat's Smart City Initiative
Property Smart Card have already been included in Gujarat's Smart City Initiative's infrastructure, giving residents a more practical and effective way to pay for services and utilities. Gujarat's Property Smart Card can be used to pay municipal services like water, electricity, and property taxes. The cards can be reloaded at various payment locations or online, and a mobile app can be used to monitor the amount. Citizens have generally been satisfied with the Property Smart Card, with many recognizing its value and effectiveness.
Key features of Property Smart Card
Property Smart Card have several key features that make them an attractive option for smart city systems. Firstly, they are convenient and easy to use, reducing the need for paper-based transactions and streamlining the payment process. Secondly, they can be integrated with other smart city systems, providing valuable data on citizen behavior and usage patterns. Thirdly, they can reduce the cost of service delivery by optimizing resource utilization and reducing waste. Finally, Property Smart Card can enhance the transparency and accountability of the payment system, reducing the potential for corruption and fraud.
Conclusion
Gujarat's Smart City Initiative has taken a significant step towards sustainable urban development by integrating Property Smart Card into its systems. The Property Smart Card provides citizens with a more convenient and efficient way to pay for services and utilities, while also providing valuable data on citizen behavior and usage patterns. As India continues to urbanize, the demand for smart city technologies will only increase, and Property Smart Card will play a crucial role in the development of sustainable urban environments. By leveraging technology and data, cities can optimize resource usage, reduce waste, and enhance the quality of life of their citizens. The future of smart cities and Property Smart Card in India is bright, and Gujarat is leading the way.
So, if you want a Property Smart Card more impactful and efficient for Gujarat's smart initiative for smart city development, then you must need a Property Smart Card. So without wasting time, you have to visit www.aayaan.org for Property Smart Card or call us at +91 9426593253.