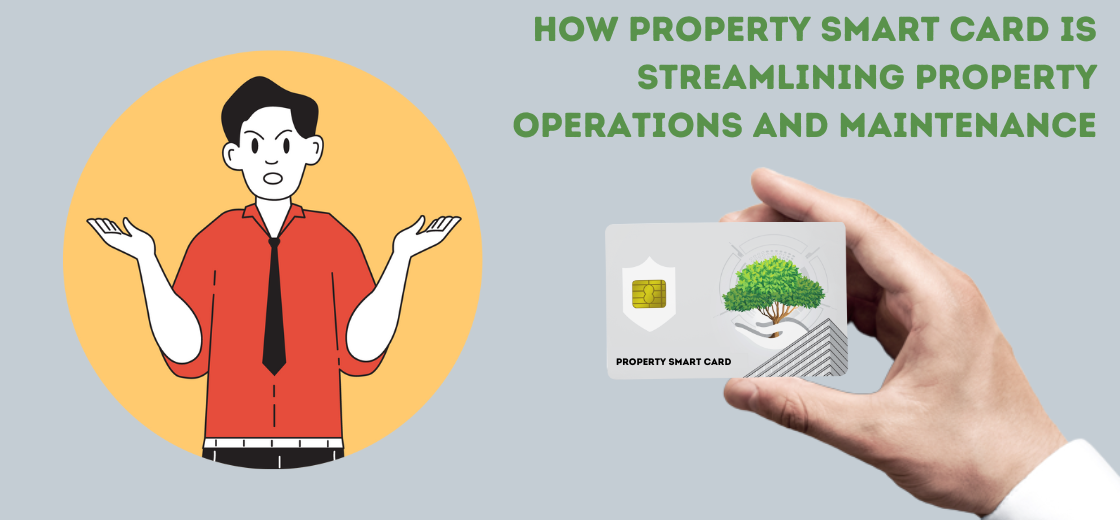 Are you tired of the tedious process of managing and maintaining your property? Do you wish there was a simpler way to make sure everything goes without a hitch? Here we have the Property Smart Card©, a cutting-edge technology that is changing Property administration. Property Smart Card are rapidly turning into an essential tool for managers and owners of rental properties due to their capacity to retain important information and streamline operations. This blog will discuss the operation of this card, their advantages in Property management, their potential cost reductions, and what they mean for the future of property maintenance. Come explore the world of Property Smart Card with us!
Property Smart Card Information for Property Maintenance
Property Smart Card also known as access cards or proximity cards, are being increasingly used in the property management industry to streamline operations and maintenance. These cards use radio frequency identification (RFID) technology to provide secure and convenient access to different areas of a property.
Technology, specifically the Property Smart Card, has completely changed how property management is done. They are essentially little plastic cards with embedded microchips that can store data on the structure and its amenities.
These chips make it simple to keep track of maintenance schedules and can help prevent issues from becoming major problems. For the building's entrances, lifts, parking garages, and other locations, they also offer secure access control systems.
Property Smart Card have become increasingly popular in recent years because they offer numerous benefits over traditional methods of property management. For instance, all essential information can be quickly accessed with a single swipe or tap rather than depending on paper-based recordkeeping or manually entering data into spreadsheets.
Moreover, since this card can store large amounts of information such as equipment warranties and operating instructions, this reduces time spent searching through cluttered filing cabinets looking for specific documents.
Property Smart Card is an essential tool in modern Property management providing an efficient solution to managing properties while keeping up with technological advancements.
How Property Smart Card Benefit Property Management
Property Smart Card© is revolutionizing the way Property management operates. These advanced access control systems offer numerous benefits that help streamline property operations and maintenance. One of the primary advantages of Property Smart Card is their ability to enhance property management.
With Property Smart Card, property managers can easily keep track of who enters and exits the building at all times. They can also monitor any areas where security breaches may occur, enhancing safety protocols for both staff and tenants.
Another benefit is that Property Smart Card allows for easy customization of access levels based on various factors such as time, day, or location. This allows for better flexibility in managing restricted areas within a building.
The use of Property Smart Card technology also provides real-time information on occupancy rates which helps scheduling cleaning services more efficiently thereby reducing downtime during working hours while ensuring that cleaning schedules are aligned with tenant needs.
Also, these devices streamline communication between employees when it comes to reporting maintenance issues or damaged equipment by providing quick notifications through the card system to relevant personnel so they get immediate assistance before problems escalate into larger ones resulting in expensive repairs down the line.
Here are some ways Property Smart Card are streamlining property operations and maintenance:
Improved Security: Property Smart Card allow property managers to control who has access to different areas of the property. By limiting access to authorized personnel, the risk of theft, and other security breaches is greatly reduced.
Increased Efficiency: Property Smart Card can be programmed to allow access to specific areas at specific times. This means that property managers can automate the process of granting and revoking access, saving time and increasing efficiency.
Better Tracking: Property Smart Card allow property managers to track the movement of personnel throughout the property. This information can be used to identify areas that require more frequent maintenance or to determine if there are any areas that are being accessed without authorization.
Reduced Maintenance Costs: Property Smart Card can be used to monitor and control HVAC systems, lighting, and other equipment. This allows property managers to identify and correct inefficiencies, resulting in reduced maintenance costs.
Improved Tenant Satisfaction: Property Smart Card can be used to provide tenants with secure and convenient access to different areas of the property. This may enhance rates of tenant retention and satisfaction.
Remote Access: Property Smart Card can be used for remote access, allowing property managers to grant temporary access to contractors or other personnel who require access to the property for a short period. This eliminates the need for physical keys or access codes, reducing the risk of lost or stolen keys or unauthorized sharing of access codes.
Integration with Property Management Software: Property Smart Card can be integrated with property management software, providing property managers with real-time access to data and analytics. This data can be used to identify trends, track maintenance requests, and optimize operations.
Improved Communication: Property Smart Card can be used to facilitate communication between property managers, tenants, and maintenance staff. For example, maintenance requests can be submitted via the smart card, and tenants can be notified when a request has been completed. This improves communication and reduces the response time for maintenance requests.
Conclusion
Property Smart Card is an innovative solution that is streamlining property operations and maintenance by improving security, increasing efficiency, better tracking, reducing maintenance costs, improving tenant satisfaction, providing customizable access levels, remote access, integrating with property management software, and improving communication. By implementing Property Smart Card, property managers can create a more secure, efficient, and sustainable property management process.
So, if you want all benefits of a Property Smart Card in Property Maintenance & Operations, then you must need Property Smart Card. If you want Property Smart Card in India then Aayaan Data Science Pvt. Ltd is here to serve you. You can log in to our website www.aayaan.org or contact us at +91 9426593253 for more.